Premium Fire and Water Restoration
Do you have standing water in your home? Fire damage to repair? We can help. Our fire and water restoration technicians are highly trained and certified in the latest home restoration and remediation techniques and technology. After a disaster, the last thing you need is more stress. Our fire and water damage restoration team arrives quickly, works fast and get the job done right.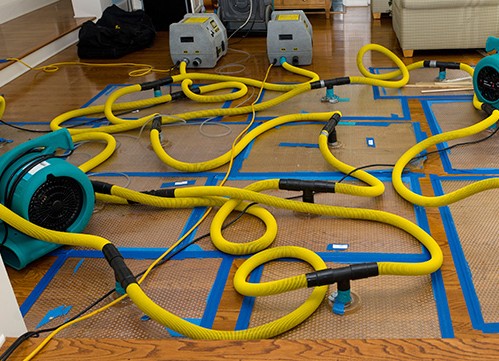 Home Pro Fire and Water Damage Restoration Process
1. Assess the Damage
We'll first check your home's structural integrity, making sure it is safe for habitation and repair.
2. Mitigate the Cause of the Damage
Whether its flood water, a sewer back up or faulty electrical wiring, the first order of business will be to correct the problem so no additional damage is done.
3. Determine the Scope of the Damage
We'll conduct a thorough inspection to determine the scope of the damage and what it will require to restore your home.
4. Free Estimate
We'll provide you with a complete breakdown of the work to be done and a free estimate and timeline to complete the work.
5. Complete Restoration Work
Our primary goal will be to repair the damage properly and get you back to your normal life as soon as possible.
Because we care about our friends and neighbors, we will be happy to work with you whether you have insurance or not. When you call Home Pro, you won't have to worry about taking out second mortgage or going without to get what you need. If you don't have insurance, we can adjust our rates to make sure you have a clean, safe home to return to without an inflated price tag. Don't let lack of insurance stop you from calling.
Why Choose Home Pro Services?
 24/7 Emergency Service
Convenient Appointments
Experienced, I.I.C.R.C. Professionals
We Work With All Insurance Companies
Upfront Pricing with No Hidden Charges or Surprises
Complete Customer Satisfaction Guarantee